There's an enemy that everyone faces—containment! Every Bible hero battled this; Abraham, Moses, Joshua, Elijah and the Apostle Paul. Containment means to keep someone restrained, limited and afraid of moving forward.
Have you ever felt that doubts and fears have kept you from stepping out into something better? Simon Peter had experienced God's love, he had walked with Jesus. Yet, at a life-changing moment, when he was supposed to go to a man called Cornelius to share the Gospel, he was afraid. There were two voices, one that told him, stay where you are, and the voice of the Holy Spirit, that told Simon Peter to go forward; the Spirit told me to go; doubting nothing, Acts 11:12.
There is a power that wants to contain each one of us, but one word from God changes everything.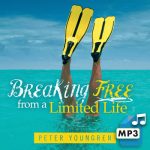 Jesus gave Simon Peter a vision, he saw a sheet with unclean animals lowered down and Jesus told him, "Arise, kill and eat". Peter's response was, "Not so, Lord". Imagine that, Simon Peter corrected Jesus. He knew it was Jesus speaking, otherwise he would not have said "Lord". What was Simon Peter's problem – containment! He was afraid to go forward, afraid for himself, and afraid what others would think.
The story is in the Book of Acts chapters 10 and 11 and you probably know how it ends; Simon Peter received the word from heaven and went to the house of Cornelius – he entered into his destiny. Here is the reality. Without going forward Simon Peter would never have become the great apostle that we remember today. Just like Simon Peter received word from heaven, there is a word for you:
1: Go forward! The picture in your heart will guide you.
God has put a picture in you. The Holy Spirit speaks through pictures. I know that you can see that God has a destiny for you. I know that you know that going forward for the Gospel is a key to everything for you personally. Follow that picture in your heart!
2: Go forward! God has prepared your steps.
God worked on Cornelius, to make him ready to receive Simon Peter, and so God is working in your situation. That's an ironclad guarantee, that God has prepared good things for you, Eph. 2:10.
3: Go forward! Leave Christ-less religion behind.
Leave behind whatever is not aligned with Jesus Christ and His grace. In spite of all his experiences with Jesus, Simon Peter still had self-righteous pride – he was living with unfulfilled potential.
Containment means unfulfilled potential. You know the area in your life with there is containment. It's time to step out! At the end of this article, I will ask you to take a step of faith, to do something even bigger than you have ever done before.
4: Go forward! Good things happen when you go!
I have discovered that miracles don't happen in the place of containment. Miracles happen when we go forward. Simon Peter discovered that the entire household of Cornelius was ready to receive salvation and the Holy Spirit.
Miracles happen when you go forward with the Gospel.
Miracles happen when you go forward with your finances for the Gospel. You will reap a maximum harvest!
In just a few weeks I will be in a large Muslim region on East Africa's coast. It's a huge step forward. Like Simon Peter, I could easily be filled with doubt, but the faith of God tells me to go forward. He will never let us down.