Jesus is the Anointed One! Believe in Jesus! Come to Jesus!
Jesus preached that the Holy Spirit had anointed Him, Luke 4:18. In fact Simon Peter later on said that this was the message Jesus preached throughout all of Judea, Acts 10:36-38.
Look at what happened in the house of Jairus, the ruler of the synagogue, when this message reached his house, Mark 5:21-43. Jairus really grasped that everything he needed was wrapped up in Jesus.
Jairus' daughter was sick and while Jesus was on His way to his house, He was delayed. In fact, Jesus was interrupted by a woman with an issue of blood, who had suffered for 12 years. After Jesus had healed this woman and given a short teaching, he arrived at Jairus' house only to find out that the daughter was dead.
Here is what we learn: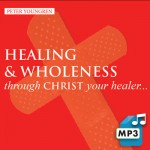 Jairus … only had one thing to say, "Come and lay your hands on my daughter and she shall live!" He did not go in to any details about the reasons why his daughter was sick, but simply spoke a word of faith—"she shall live!"
Jairus … kept his focus on Jesus even after a negative report. When Jesus heard that the daughter had died, He told Jairus, "Be not afraid, only believe!" Jesus knew that Jairus had every opportunity to become fearful or disappointed.
Jesus is the same today. No matter what you are facing—do not be afraid but keep believing. Believe that Jesus is the Anointed One! Believe that all you need is in Him!
Jairus … did not let his religious tradition stop him. Being a ruler of the synagogue he could have condemn the woman with the issue of blood for being seen in public. He could also have criticized Jesus for taking time with her. After all both Jesus and the woman were breaking the Law of Moses.
Jesus wants us to know today that we are not healed or blessed because we keep religious rules or rituals. Every blessing, every healing, every good thing is by God's grace alone.
Jairus … did not accept defeat. He could have resigned himself to the fact that his daughter was dead. He could have disregarded what he had just seen—a woman healed of the issue of blood.
Jairus … remained humble. It would have been easy for him to be puffed up by pride when Jesus left the big crowd to go to his house. Instead, he continued in humility. You see, God always gives grace to the humble.
What is humility? It is simply to be dependent on Jesus Christ. Pride, on the contrary, is independence from Him.
Yes, there were many potential temptations, but Jairus never deviated from his single focus—looking at Jesus Christ. It reminds me of, "looking unto Jesus the author and finisher of faith", Hebr. 12:2.
You can be assured that what Jesus did for Jairus and for his house, He will do for you, because Jesus Christ is the same yesterday, today and forever. Please go ahead and declare your faith! Jairus spoke the words of faith, "she shall live". Speak boldly what you are believing God for.
Remember that Jesus brought Peter, James and John with Him. When you send your prayer requests, let our ministry team be your "Peter, James and John", believing Jesus with you and for you.