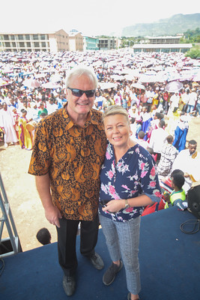 Global Grace News consists of teaching articles from various authors around the world advocating the Gospel; grace alone, faith alone, Jesus alone. Christ's finished work of redemption is the only provision for salvation and blessing.
The purpose is two-fold; to help the church rediscover Jesus and take the Gospel of the grace of Jesus Christ to the world. Global Grace News is for believers, who want the church and the world to discover Him and the fullness of His redemptive work.
Many ministries and believers recognize that there are strong forces against the Gospel today; religious mysticism, human wisdom, and legalism are distracting people away from the clarity and simplicity of the Gospel. The focus of Global Grace News is not on what we don't have, but what we have in Christ! (Phil. v. 7)
The revelation of grace is the revelation of Jesus Christ. The Scripture is clear that believers reign in life by the "abundance of grace" (Rom. 5:17) and that the same grace that saves us teaches us to live godly (Tit. 2:12). If we want people to live holy, we must reveal the abundant grace of Jesus, because grace is what produces holiness and spiritual maturity. Those who have concerns of an overemphasis on grace, often view the grace of Jesus as just another topic of teaching. However, the revelation of grace is the revelation of Jesus Himself, and true holiness is only produced through Jesus living through us.
Teaching articles are free; should you want to bless this work financially that is appreciated. By doing so you help share the message of Jesus Christ around the world through seminars and free resources to those who have little, or no access to the Gospel.
Enjoy your studies – there is a lot of material available!
– Peter & Taina Youngren