Obedience has certainly been the topic of many sermons over the years.  From fire and brimstone threats for disobedience, to promises of great reward for those who obey, preachers have proclaimed their views concerning obedience to God's Word.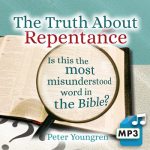 Is it important to obey God's Word? Certainly it is. But what is the word from God that we are to obey?
Israel's Disobedience
In Hebrews 3 we read a reflection upon part of Israel's history which was first recorded in Numbers 13 and 14. During the time of Moses, God told Israel that He would enable them to enter the Promised Land by giving them victory over the nations that opposed them. The people, however, after hearing what they perceived to be a terrifying report about the strength of the other nations, refused to enter the land.  In spite of God's promise and unlimited ability, Israel refused to trust His Word.  Consider the result of Israel's lack of trust:
"…to whom did He (God) swear that they would not enter His rest, but to those who did not obey? So we see that they could not enter in because of unbelief" (Hebr. 3:18-19).
The first thing we need to note is that God equates unbelief with disobedience. For Israel, not trusting in God's promise and ability was disobedience.
Now what about us? The usual sermon about obedience includes commandments that the preacher thinks the people are not obeying. But in light of God equating belief with obedience, our actions are not the first place where obedience must occur.
Where then does obedience begin? Actually, it is the same place where everything in our relationship with God begins – THE GOSPEL!
Believing Is Obeying
The earliest recorded message we have from Jesus' ministry is found in Mark 1:15: "The time is fulfilled, and the kingdom of God is at hand. Repent, and believe in the gospel."  Now go back to Hebrews. We noted earlier that, because of unbelief/disobedience, Israel did not enter the Promised Land and the corresponding rest from their enemies that God had promised.  Well, in the same context, God went on to say that His rest is still available to people, and "we who have believed do enter that rest" (Hebr. 4:3).
Believed what? The Gospel of the Lord Jesus. In fact we are exhorted to "be diligent to enter that rest, lest anyone fall according to the same example of disobedience" (Hebr. 4:11).  If Israel's unbelief was called disobedience, then belief on their part would have been obedience.  The same is true for you and me today. When we believe the Gospel, we are obeying God. To not believe the Gospel is disobedience just like Israel exhibited.
Obeying the Truth of the Gospel
Consider the Galatians when Paul wrote to address a drastic problem. They had received the Gospel; they had received the freedom of Christ and were in fact "running well" (Galatians 5:7).  But something happened – they had come under the influence of religion.  They had been "bewitched" into mixing Jesus (grace) with human performance (legalism).  And what did Paul have to say about it? "Who hindered you from obeying the truth?" (Gal. 5:7). If the Galatians were not obeying, they must have been disobeying.  And what were they disobeying? The truth of the Gospel. Paul did not write to them about any commandments they were violating, or any traditions they weren't keeping. He wrote to them about standing "in the liberty by which Christ has made us free" (Gal. 5:1).  For the Galatians, and for us today, obeying God was and is a matter of believing the Gospel. Christ has put away our sin; He alone is our righteousness. He lives in us and we are one with Him.  Obey God! How?  By following a list of commandments? No. By believing the Gospel of the grace of God.
Now, what I have just shared might make some people a bit nervous. So I will share this thought:  trusting solely in the Gospel of the Lord Jesus and acknowledging His presence within us will never inspire us to sin.  Instead, the more we consider Jesus and grow in our understanding of Him, the more responsive we will be to Him at every moment of every day.  And Jesus will always lead us in the way that is right.
Consider the subject of forgiveness, for example. The majority of Christian people in the world today would agree that it is important for us to forgive other people when we feel that we have been wronged.  I certainly agree with that belief. In fact, unforgiveness on my part would be equally damaging, if not more so to me than it would be to the person I was refusing to forgive. Forgiving others is certainly an important part of our lives. And the Gospel is our source of help when we need to forgive: "… as the elect of God, holy and beloved, put on tender mercies, kindness, humility, meekness, longsuffering; bearing with one another, and forgiving one another, if anyone has a complaint against another; even as Christ forgave you, so you also must do" (Col. 3:12-13).  What will help us forgive others? Believing (i.e. obeying) the good news that God, in Christ, has forgiven us.
We can apply the same truth to every aspect of our lives.  The Gospel declares that you are righteous in Christ Jesus (2 Cor. 5:21, Rom. 5:17).  Therefore, believe that because of Jesus your relationship with God is perfect and unbroken. Nothing you do can make God stop loving you, and there is nothing you need to do to improve your relationship with Him.  He loves you.  He is ever present with you.  He has made all things right between you and Him. Relax and enjoy the fellowship of the Lord Jesus.
The Gospel declares that by the stripes Jesus bore on His body you have been healed (1 Pet. 2:24). Therefore, live as a person who has been healed and made whole.
The Gospel declares that God, through Jesus, has reconciled the world to Himself and He is not holding people's sins against them (2 Cor. 5:19). Therefore, we have no need to be critical of people who have yet to trust in Jesus. Instead we are ambassadors for God with a good news invitation to deliver to every person.
Jesus will always lead us in the way that is right and enable us to live in that way.
Is it important to obey God? Absolutely. Therefore, believe the Gospel!