There have been some days of transformation in my life – days that really have affected and marked my life. Several of them are related to the revelation of God's awesome and unconditional love.  How difficult it can be for us sometimes to really understand and fully trust that God's love is totally unconditional.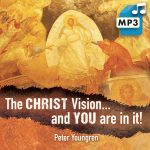 The world is full of conditional love, conditional benefits, conditional wages, etc. As God's heart becomes more and more revealed to us, we are established in a deeper and deeper security which affects all areas of our lives; both in our personal life and in the ministry.
Security Comes from Your Relationship with Him
1 John 4:16:  And we have known and believed the love that God has for us…
(Amp) And we know (understand, recognize, are conscious of, by observation and by experience) and believe (adhere to and put faith in and rely on) the love God cherishes for us…
Both John and Jesus lived in the security that they were loved unconditionally. It was John who called himself the disciple that Jesus loved, and it was Jesus who said about Himself:
John 5:19-20: The Son can do nothing of Himself, but what He sees the Father do; for whatever He does, the Son also does in like manner. For the Father loves the Son, and shows Him all things that He Himself does.
Jesus had no need to follow people's expectations, He only did what the Father showed Him. Some people wear themselves out trying to always meet other people's expectations – in an effort to feel loved. But we are first loved by God, and that enables us to both give and receive love from others. God will teach us when to say yes and when to say no.
1 John 4:19:  We love Him because He first loved us.
1 John 4:11:  Beloved, if God so loved us, we also ought to love one another.
We can also see how Jesus, in His security, did not need to control and manipulate people – He gave them the freedom to choose. When He said: "Will you also leave me," the disciples immediately answered: "Where shall we go, you have eternal life."
John 15:9:  As the Father loved Me, I also have loved you; abide in My love.
A man came to a pastor and asked for prayer so he would not lose his job. Terminations and leaves were going on and the man was afraid. The pastor replied:  "No, I'd rather pray that you shall be able to see that it is Jesus and not the job that is your source of security." It is of course not wrong to pray that we shall keep our jobs, but if something other than Jesus is the source of security and satisfaction in our lives, then a wrong dependency may develop. And fear may develop too.  It is good to remember that Jesus is not limited by circumstances (He fed the 5,000 with five loaves and two fishes), and if something is broken, He creates another vessel.
Both in Good Days And in Bad Days
John 14:16:  And I will pray the Father, and He will give you another Helper, that He may abide with you forever.
I'll never forget the day that God revealed to me the truth that He has come to STAY. I sat in a hotel room in Asia and had just listened to some sermons on CD. In the preaching, we were encouraged to open our hearts and tell God something we maybe never had told any person before. Just at that moment I realized a deep fear that I had carried for a long time. As I mentioned this to God, I immediately received a revelation.
The Holy Spirit gave me an example of a wedding. When people get married they promise to love each other in good days and in bad days. I have always thought that this means when the days are good and when the days are bad. But in that moment I saw that this means when I am good and when I am bad. This is the promise God has given us – He will love us in both good days and bad days! The fear vanished instantly and was replaced with security in God.
He Doesn't Evaluate You, He Helps You
Eph 2:4 (Amp):  … Because of and in order to satisfy the great and wonderful and intense love with which He loved us…
One day I meditated on this passage. I asked God:  "Father, why is your love for me so intense. Why is it so great? I can't understand this." I repeated it over and over. Then He showed me that even if I quit being a missionary and went home and sat on a couch for the rest of my life, He would love me just as much! For His love for me is completely unconditional.
As this truth started to settle in me, the next thought arose:  "But then it means that you are not evaluating me to see if I'm good enough to be used by you, but instead you are on my side, helping me to live in and use everything you have put into me." A new security was established!
The Great Mystery
Our relationship with Jesus is described in many ways, so that we can better understand who we are to Him. One example is members of a body; another example is a marriage. Let us first look at the example with members of a body.
Eph. 5:28-29:  So husbands ought to love their own wives as their own bodies; he who loves his wife loves himself. For no one ever hated his own flesh, but nourishes and cherishes it, just as the Lord does the church.
Here the beautiful words nourish and cherish are used. Nourish means to provide healthy nutrition that will do us good. And the word cherish is about something that is very precious to us; something we keep close to our hearts. And that is precisely what you are to Jesus! Something precious that He keeps close to His heart!
The second example, a marriage, is mentioned in the Bible as a great mystery.
Eph. 5:31-32:  "For this reason a man shall leave his father and mother and be joined to his wife, and the two shall become one flesh." This is a great mystery, but I speak concerning Christ and the church.
So what is the big mystery? Every time I read this I always thought about the unity we have with Jesus; that we are one body with him. And it's true – it's a great mystery where we still shall gain deeper insight. But one day when I read this verse again, I was speechless and my tears flowed. That was because God showed me what the first part of this sentence says. "For this reason a man shall leave his father and mother and be joined to his wife." This is precisely what Jesus did. He made a choice to become human, to leave His father and to win His wife – a choice that would affect Him forever. And what is it that He is busy doing now? Staying close to His wife!
The Great Love Gift
In John 17 we see Jesus praying to His Father, right before He goes to the cross. The strong word desire is used here. It is as if Jesus said, "Father, this is what I crave; what I really want …"
John 17:24 "Father, I desire that they also whom You gave Me may be with Me where I am, that they may behold My glory which You have given Me; for You loved Me before the foundation of the world.
It is our desire to be with him and see His glory, but He desire this even more than us!
When we give someone a gift because we love the person, then we can certainly call this a love gift. What was it that God gave Jesus because He loved Jesus before the foundation of the world? The glory? Yes, that's right. But there is something more in this verse. It is we who were given to Jesus. Jesus is God's love gift to you, and you are God's love gift to Jesus! We say: "Lucky us who have Jesus!" But can you hear Jesus say: "Lucky Me who has you!"
There is nobody Jesus loves more than exactly you!
When we see this strong love, we better understand that the commandment in the new covenant is precisely the commandment of love. It pleases God that also others show love to those whom He loves so deeply and unconditionally!