The place of human beings in God's heart still amazes me after all these years! The echo of the question in Psalm 8 can still be heard: What is a man that You are mindful of him?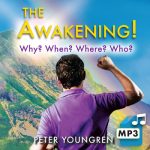 Yes, what is it with human beings that we have such a special place in God's heart? He created us in His own image; His own likeness. He put us in position just under Himself, a position nobody knew existed. And when He should crown us, no crown of gold and diamonds was even close to good enough, so He crowned us with Himself – His own glory and honor!
And the amazing story continues. Even after man fell in sin and allowed God's enemy to rule on the earth, God didn't turn His back on man. Right away an animal was killed, and the first prophecy of a Redeemer, the Savior, was announced. That must have been a huge surprise even to the angels who heard it. Did you hear? The human beings are going to get a Savior! Wow, how can that be? God's own Son become a human being and take the full punishment for what they did wrong to Him? Why? What is it with human beings that God is so mindful of them?
When Lucifer and one-third of the angels fell with him, they didn't get a Savior. But when human beings fell into sin God provided a Savior for us. Why are we so special to God? Honestly, I don't know… but we are! Out of His great love God gave us all this undeserved favor and grace!
Maybe that is why the host of God's angels couldn't stay back but joined the celebration as one angel was sent to announce the great news to some shepherds. The sky was lightened as the host of angels sang and gave glory to the God who was willing to do such a thing.
And what was the announcement of the angel? I come with good news about a great joy that shall be to all people. For to you is born today a Savior, Jesus!
Each person has such a special place in God's heart – no matter their age, social status, background, nationality or religion. They are all included! So let's go and tell the world this good news.
A Savior has been provided for, and He did His job perfectly! It covers all the people on the whole earth. The only thing a person has to do to be saved is to believe and receive. The power of God for full restoration is found in the Gospel of Christ.