When I awoke to this revelation, I discovered this gospel of grace to be the most liberating message I had ever heard! God's word gives us great hope for our future. Circumstance doesn't define who you are: God has defined who you are in Christ. As a result of the finished work of the cross, God has equipped you with the most powerful blessing known to man, which will cause you to reign in life.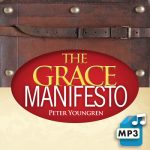 Rom. 1:17 (Mirror Translation) "Herein lies THE secret of the power of the gospel; there is no good news in it until the righteousness of God is revealed!" (The good news is the fact that the cross of Christ was a success. God rescued the life of our design; He redeemed our innocence. Man would never again be judged righteous or unrighteous by his own ability to obey moral laws! It is not about what man must do but about what Jesus has done!) God now persuades everyone to believe what He knows to be true about them. (It is from faith to faith.) The prophets wrote in advance about the fact that God believes that righteousness defines the life that He always had in mind for us. "Righteousness by His (God's) faith gives meaning to life."
That most powerful blessing known to man is His righteousness. Receive His abundance of grace and gift of righteousness, and reign in life (Rom. 5:17). Righteousness is a gift.  You cannot become righteous by your works, or self effort, because that would be works-righteousness, or self-righteousness.
I Came to the End of Myself
I was recently asked what I meant when I said I came to the end of myself. Before I caught the revelation of God's grace, I would try to plan my success, and then in my own self effort, I would try to execute my plan to make it work. I tried to earn favor with God by my works – giving, praying, and church attendance (although these things are good, but not if done out of guilt). I was doing things that I thought would get God's attention and get Him to see my efforts and give (earn) me favor.
Whenever I would mess up, I thought I was out of fellowship with God, so I had to work harder to get back to where I was. This I thought would bring blessing to my business and ministry. I would attend sales conferences where the top salespeople would tell those in attendance that we needed to do more. We could never quite do enough; always thinking we were almost there then falling short again. Many Christians feel this way. They may experience a degree of success, but then somehow they are back to square one, starting over. There is no rest in this constant vacillation.
Then the self-effort based questions start: Where did I miss it, what did I do wrong, God why aren't you blessing me, haven't you seen what I have done for you? I was living a life of constant striving. After decades of this, one day about six years ago, I read Hebrews 4, about entering the rest of God. I became obsessed with this rest, and desperate to get it. I also realized that I could not continue to strive any longer, so I began my quest. You could say that this was where I came to the end of myself. I realized self was the problem – myself –  and as I grew in the revelation of grace, I could clearly see I had been full of self effort.
The Most Liberating Message
When I awoke to this revelation, I discovered this gospel of grace to be the most liberating message I had ever heard! Jesus forgave me and made me FOREVER innocent. He qualified me at the cross. He became me, so I could become Him. WOW! I began to see who I really was in Christ. It was everything Jesus did, and ALL I had to do was believe it and receive His grace and gift of righteousness. I didn't have to try anymore, and for the first time in my life, I could rest in Christ Jesus and what He had done for me! I woke up in a different world – effortless success was mine because Jesus paid the price. His favor was upon me in my business, and ministry.
Does this sound too good to be true? Well, it is too good, and it is true, praise the Lord! God loves you so much that when your cup is full He just keeps pouring, and your cup of blessing is running over. He is far too good to me, and His goodness produced a radical change of mind in my life (which is what repentance really is). I am hidden in Christ in God; what a wonderful place to be. I am loved, accepted, righteous, and innocent. He qualified me to receive my inheritance. Yes, He is too good, and I love it, and all I had to do was quit striving, believe what Jesus did for me, receive it, and enter His rest for me.
"Therefore, having been justified by faith, we have peace with God through our Lord Jesus Christ" (Rom. 5:1 NKJV). Peace is a place of unhindered enjoyment of friendship beyond guilt, suspicion, blame or inferiority. His rest celebrates unhindered enjoyment for man and our unhindered enjoyment of Him! I began to see just how much God really loved me. Rom. 5:8-9 (Mirror Translation): "Herein is the extremity of God's love gift: mankind was rotten to the core when Christ died their (our) death. If God could love us that much when we were ungodly and guilty, how much more are we free to realize His love now that we are declared innocent by His blood?"
Cease from you efforts, quit striving and toiling today; rest in what Jesus has done for you at Calvary. He has prepared the good life for you; He has prepared abundant provision for you, so enter His rest! The only thing you have to do is believe.
Enter into His Rest
Believing what God has said about you, as a result of the finished work of the cross, will forever change your life. As I previously mentioned, God has prepared the good life for you. Eph. 2:4-10 from the Amplified Bible describes God's wonderful and intense love with which He loved us, and that we are seated with Christ Jesus in heavenly places. He did this so that He might demonstrate through the ages His immeasurable grace and kindness towards us. In verse 10 He sums it up by saying that He wants us to live the good life which He arranged and made ready for us to live.
That good life, full of His abundance, is available to us because of the finished work of the cross, and to enter into this good life, we simply enter His rest.
What are you facing today? Enter into His rest; don't miss out on it because of unbelief. God prepared a rest for us, a rest that as you learn and believe who you are in Christ; having your mind established in redemption realities, will cause you to enjoy the profusely abounding favors of God.
Victories Living in Every Area of Life
This victorious living is intended for every area of your life, your ministry as well as your occupation. Many Christians separate their occupations and careers from their personal lives. They refer to their work (if not in a ministry) as secular, so they exclude it from any blessings because we have been erroneously taught that God will only bless what "you do for Him." The word secular has a root meaning of "temporal" – opposed to the eternity of the church – and means "not connected to a religion." You are not connected to a religion, you are connected to Jesus who loves you with great intensity and cares for everything you do. He took time to count the hairs on your head. Why did He do that? Because He loves you, that's why!
Jesus came to redeem us and reintroduce us to ourselves. He redeemed our innocence and made us righteous. In Hebr. 4, we see that Israel did not enter into His rest because they believed a lie about themselves. In verse 11, we are warned not to fall according to the same example of unbelief.
When Christians try to live by the law, they are trying to (by their self efforts) become what they already are. They try to become righteous and holy when they have been made righteous and holy in Christ. They try to continually confess forgiveness so they can be forgiven. You already are forgiven and innocent because Jesus took your punishment once and for all on the cross. So don't try to become who God has already made you to be. You'll only frustrate the grace of God in your life.
You cannot do anything special to deserve His rest; Jesus already paid for it. In Num. 33:11, we see where the report of ten spies produced unbelief, and it stopped them from entering the rest (Promised Land). They believed they were nothing, nobodies, and that the enemy was far too big to overcome. They did not believe what God told them.
Life Guilt Free
We have been redeemed through Jesus; He is the propitiation (satisfying sacrifice) who redeemed our innocence. God's plan of redemption is perfect and complete. Do you believe that? If you do, then you won't have any problem believing that through Christ, you have been made righteous, innocent, fully acquitted, forever forgiven, holy, and you are intensely loved by your Father, and He will never be angry with you again (Isa. 54:9). You would also believe, as He IS so are you in this world. All of this is because of His grace and not your "trying to become." So simply rest in what Christ has done for you, and cease from your efforts of trying to become what he has already done.
Whenever you try to become, and you don't quite measure up (nobody can), then guilt will flood in every time you fall short. You cannot have a quality relationship with anybody in an atmosphere of guilt! Once guilt sets in, then you have believed a lie about yourself, and it will affect your rest. Live guilt free – Jesus made you innocent! Don't try to earn what He has given to you.
This is the superabundant life Jesus came to give you (John 10:10)! When you catch this revelation, it will turn your life, career, business, and everything else upside down! Why do I say upside down? Because this is completely backwards to the world's way of thinking. In Acts 17:6, the disciples were accused of turning the world upside down with this gospel of grace. What an awesome, loving, wonderful Father we have! Now can you see how you can reign in life today as a king through what He has done for you? His abundant supply and effortless success will flow in your life when you are at rest.