You are a beneficiary of the New Covenant. What does that mean? Well, to begin, consider something that may be a little more familiar to us at this point in time: a will (testament) of a parent (let's say a father for this example).
When a father makes out his will, he declares his desire for what should be done with his possessions after he passes away. Perhaps a son is given the house, a daughter is given the vehicle… any combination is possible according to what the father possesses.  Also, the will cannot be modified without the consent of the father.
I have just used what to our minds today is a very natural example. But did you know that the Apostle Paul used the same example to illustrate the New Covenant? Consider Gal. 3 where Paul is calling the Galatians' attention back to the perfection of the New Covenant that has been established between God and people in Jesus: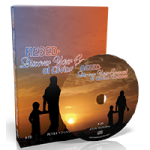 "Brethren, I speak in the manner of men:  Though it is only a man's covenant, yet if it is confirmed, no one annuls or adds to it" (Gal. 3:15).
What is Paul saying? Even in the natural world, a covenant (testament) cannot be added to or taken away from.  How much more then the New Covenant? It is God's idea; God's initiative; God's doing.  It cannot be added to or taken away from. My friend, this is important for us to know.
God's Covenant Partner
Paul was writing to the Galatians who were attempting to improve their standing before God by their own performance.  Somehow they had been deceived into thinking they needed to perform certain religious deeds in order to maintain the covenant, or to receive more value from the covenant.  Paul's emphatic response to this thinking is, "No, No, No!!!"
Be encouraged today, my friend.  God has not removed any of the benefits that have come to you in Jesus, nor is there any room for improvement in the New Covenant. What is there room for?  More recognition of Jesus. He is faithful in the covenant (even though we are not always so); His faithfulness counts for us; and because He is faithful, the New Covenant is unbreakable.
Perhaps there have been times in your life as a believer when you were convinced that God was displeased with you. Like many people who have been trapped by religion that is based solely on the Old Testament, maybe you had even come to a place in your thinking where you believed your failures had given God a suitable reason for leaving you, excluding you from His family, or removing His blessing from your life and ministry.
Please read these words carefully: Your failures and unfaithfulness do not change God's opinion of you, nor do they violate the New Covenant, causing you to be disqualified from God's goodness.  If you desire to partake of the benefits of the New Covenant by trusting in Jesus, you are always welcome to do so.
Now, is it true that a covenant requires faithfulness? Certainly. And is it true that in the biblical accounts of covenant there were serious consequences for people who violated a covenant? Yes, that is true. So then, how is it possible that your unfaithfulness to God does not result in Him rejecting you as a covenant partner? Answer: You are not God's covenant partner. The Man Christ Jesus is God's covenant partner. He is never unfaithful to the covenant. His perfection is ever-present before God (Hebr. 9:24).  And because you are in Him (Rom. 6:11; Eph. 1 & 2; Col. 2:9-13), your failures do not appear before God. Instead, Christ's perfection and faithfulness appear before God on your behalf. Praise the Lord!
God's Covenant with Abram
Let's continue this study of covenant for a minute or two.  The New Covenant is the fulfillment of the covenant God made with Abram long ago.  Yes, there was the time of the Mosaic (Old) Covenant.  But we are told in Galatians 3:17-26 that the Mosaic Covenant, referred to as "the law," ended when Jesus came and it did not annul the covenant that was previously made by God with Abram and his seed.  God did not replace His covenant with Abram. Rather, the law was given to show Israel, and all people, that it is not possible for us to benefit from God's goodness by human effort or merit.  From the very beginning of our lives, we are "confined… under sin" (Gal. 3:22), and only by God's mercy and grace can we receive the benefits of His promises.  God, of course, knew that from the beginning.  So in establishing His covenant with Abram and his seed, God's grace for all generations was already at work.
Do you remember the story of God confirming the covenant with Abram and his seed? God had promised great blessing to Abram and his descendants (Gen. 12:2-3; 15:1-6).  I like to say it this way: God promised to empower Abram and his descendants to be well and do well for their own good and for the good of all people. My friend, that is God's provision for you today too:  He has made provision for you to be empowered to be well and do well for your own good and for the good of other people through you. Praise the Lord again!
So how will this occur in our lives? We have already seen that a covenant demands faithfulness. And we have seen that, in things pertaining to God, human effort is futile and clearly shows that all of us are nothing but unfaithful.  How then can anyone benefit from God's covenant? I alluded to the answer earlier: In establishing His covenant with Abram and his seed, God's grace for all generations was already at work.
In Gen. 15:8-21, we read the account of God confirming His covenant with Abram, who clearly was familiar with the formalities of ancient covenant. Abram prepared animal carcasses for the covenant ceremony, thus creating a path of blood between the carcasses. Such a path of blood was the place through which the participants in an ancient covenant would pass as they made promises to each other and pronounced curses that would arise if someone broke the covenant.
But after Abram had everything prepared, God caused a change that was essential for the security of the covenant.
Before we continue with the story, be reminded of a few things: A covenant is made between two or more parties; a covenant demands faithfulness; Abram was a sinner from birth, just like every other person born in Adam's lineage. Clearly, God could not depend on Abram. Now, back to the story in Gen. 15.
Everything was ready for the covenant to be confirmed.  But at the last minute, God made the crucial change: He put Abram to sleep (v.12). What does this mean? Abram would be a beneficiary of the covenant without bearing the responsibility for the security of the covenant.
Who then would be responsible? A covenant must have more than one party. God is present. Abram is asleep. Is there only one participant? No. According to Gal. 3, everything is fine even while Abram is asleep because:
"to Abraham and his Seed were the promises made.  He does not say, 'And to seeds,' as of many, but as of one, 'And to your Seed,' who is Christ."  And this I say, that the law, which was four hundred and thirty years later, cannot annul the covenant that was confirmed before by God in Christ, that it should make the promise of no effect" (Gal. 3:16-17).
Jesus is the Seed
Did you see that? Jesus is the Seed to whom the promises were made, and the covenant was confirmed by God in Christ.  Jesus, the Seed, was present when God confirmed the covenant of which Abram and his descendants would be the beneficiaries.  We can now see this even in Genesis 15.  While Abram was asleep "there appeared a smoking oven and a burning torch that passed between those pieces" (v.17). Not one, but two things appeared and passed through the blood of the covenant. God was present. The Seed of Abraham, whom we now know as Jesus Christ, was present.  The covenant was confirmed, and it is forever secure for Abram, for you and for me, because the continuation of the covenant does not depend on you or me, it depends only on Jesus.  He is faithful, He is unchanging.  He is God, and He is human. In Him there is faithfulness on God's part, and in Him there is faithfulness on humanity's part. The New Covenant in the Lord Jesus Christ is THE UNBREAKABLE COVENANT!
What then do we do? Consider Jesus in every aspect of life, and respond accordingly to Him. He leads us in godly living. He inspires us in faith. His healing power, His strength and His abilities are manifested in our bodies. His love and kindness are heard in our words and seen in our actions.
Jesus is faithful.  Jesus is unchanging. Jesus is the One in whom the New Covenant is forever perfect and secure. You are in Him. What does that make you? The recipient of every good thing found in God's will, and a vessel of His love and power through whom He is made known to the people around you.
You are empowered to be well and do well for your own good and to the glory of God. And as a minister of the Gospel of the Lord Jesus, you are empowered to help other people be well and do well.