I became a Christian in 1990 and soon discovered that I had a call to preach the Word of God.  The first two years of my Christian life were filled with sharing testimonies about what Jesus had done in my life.  The following two years I worked as a youth leader and taught in the church about truths that God had shown me.  That was a wonderful time.
I Was a Person Who Was Capable of Doing a Lot in My Own Strength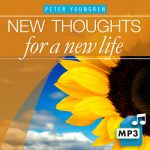 The next three years I worked hard for the Lord, from morning to late evening.  I evangelized and preached everywhere, prayed for the sick people whether they wanted prayer or not, studied the Word, and fasted and prayed a lot.
There then came a short period in my life where I had so much to do that the quiet times with God disappeared. I was in full-time ministry for God, and at that time a friend and I started a Christian rehabilitation center for drug addicts.  At the same time I lead my local church, assisted in pioneering a new church, and was building a new house for my family and me.
One late evening in 1997, I arrived at home after having worked on the house, and I was tired and exhausted. We lived on the second floor of the building where the meetings were held. Since my wife and our two children had already gone to bed, I went downstairs to the hall and sat down on a chair to read the Bible and spend some time with the Lord. It had been a long time since I had had any personal time with the Lord, so I felt a bit guilty.
After having read in the Bible around five minutes, I fell asleep, and having slept a while I tried to read some more, but again I fell asleep.  As I woke up, discouraged about myself, I said to the Lord:  "I can't, I have no more strength," and then the Lord spoke gracefully and clearly to my heart: "That is ok! Go to bed."  I felt like a heavy burden had been taken off my shoulders; all condemnation disappeared with those loving words from the Lord Himself.
The Result of My First Powerful Encounter With the Grace of God
This was my first powerful encounter with the grace of God. The result was that I was so fresh and rested the next morning that I woke up earlier than usual and had a worship time with the Bible and the Lord.
Another result was that I was no longer so strict with other Christians, neither while preaching nor in private. After all, God was satisfied with me, even though I didn't always make it.  That made me more tolerant with others even if they didn't live with the same commitment as me.
All Your Future Sins Are Forgiven
Three years later someone else had taken over the leadership responsibility of the local Church, and I had become one of the co-pastors of the new church.
A few friends and I went to Tanzania in April 2000 to work there for three months.  We had plenty of time to study the Bible, since our families didn't travel with us.  On one of those days the Lord again revealed to me God's grace in a revolutionary way.  The Lord said: "All your sins are forgiven, from when you were born until your earthly death." The Lord showed me how powerful the work of redemption was, and that nothing could no longer separate me from His love – no sin, no work, and no action of any kind. Even if I should fall into sin, the sins were already forgiven.
That set me completely free from fear, for my greatest fear had been that I could fall from the Lord if I didn't live right the rest of my life. I would imagine that when I was old and senile I might commit some sin that I never asked forgiveness for, and then the Lord would take my salvation away just before I died. That was a deep fear in me, and it disappeared immediately with the revelation that even my whole future was forgiven.
It Was Not Only an Experience – It Was Also Biblical
I was in an intoxication of happiness, and everything in me shouted that this is true – this is the truth. Days and weeks went by, and as the experience distanced a little, I asked the Lord to show me the Scriptures on this. The first one He showed me was that 1 John 1:9 was only written one place in the New Covenant, while I found several Scriptures that said we can now forgive each other just as Christ HAS forgiven us.
The Lord also showed me Mat. 6:15, saying that if you do not forgive, then the Lord will not forgive you either. He explained that this was a description of the covenant of the Law given to the Jews.  At that time Jesus had not yet carried our sin on the cross, but after the cross Jesus could reveal the truth that all sin are fully paid – both sins in the past and in the future.
God Reckons Our Sins to the Old Man and Not to the New Man
2 Cor. 5:17 says that we now are new creations and all the old is gone. My old life is not only the life I lived until I became a Christian, but my old life is my earthly life from birth to the grave. If I fall in sin today it will be reckoned to my old life, and the old life is gone because it was crucified with Christ and has already received its punishment with Christ at the cross.
2 Pet. 1:5-9 tells us that those who lack fruit in their Christian life are blinded and shortsighted; they have forgotten that they were cleansed from their old sins. God reckons all sins to the old man and not to the new man; for the new man is reckoned righteousness – undeserved by God's grace.
Today I work as a Bible teacher at the Bible school in Oslo Christian Center and as dean at the leadership school in the same Church. Every year we see many people enter into the rest in God and the freedom from fear of judgment so that they can live a life that bears much fruit – everlasting fruit.
"Blessed is the man to whom the Lord shall not impute sin" (Rom. 4:8).