God is almighty; He has the power to solve any problem in our lives. But how can we release the power of God in our lives?
Christians always want the power of God in operation in their lives, and that's a good thing. Don't we all want that? We know God is all powerful. Powerful to heal, powerful to save, powerful in every sense of the word! Can we actually pinpoint the source of God's power for our lives? If we could, then we could go to that very source of power for healing, protection, provision, or whatever the need.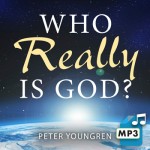 God Is Love
We could say that we know that God is love, and that is the power source of God for our lives. It is true, God is love, and 1st John defines for us that love is who God is. So if we could love enough, then we would have His power in our lives. That's a start, and exceedingly important as you will soon see, but that is not where we "plug in."
God's love for us is where it begins, and God's love is powerful. Like a bolt of lightning in the sky, it is charged with power beyond our capacity to imagine. However we need to somehow plug into that power so that we can see it manifest in our lives. So that we can live the life God planned and imagined for you and me – "the good life" as Ephesians puts it. Jesus said: "I have come to give you life, and life more abundantly!" The literal translation of that verse says: "I came that one should have life and should have extra."
This word "extra" (abundant) means, according to Thayer's Greek Dictionary, "over and above, more than is necessary, superadded, exceeding abundantly." Wow, that is our God! That's the power He wants for us – the power to live life to its fullest, abundantly, lacking nothing, a healthy and vibrant life. He wants us to have His life.
We still need to find that plug-in, so to speak. How does it become available for us in our day-to-day lives?
Let's take a close look at Rom. 1:16-17 NKJV: "16 For I am not ashamed of "the" gospel of Christ, for it is "the" (definite article) power of God to salvation for everyone who believes… 17 For in it "the" righteousness of God is revealed, from faith to faith; as it is written, the just shall live by faith."
Here is where we begin to see and understand His power plugged into our lives.
Plugging Into the Power of God
There is only one gospel (the gospel), which is "the power of God," and you plug into it through "the revelation of righteousness." The revelation of righteousness will release the very power of God into your life.
This revelation is a revelation of your true identity fully restored in your life in Him. This has already been done at the cross; your belief in this revelation is where your life really begins. To believe and receive this revelation of righteousness is to be fully persuaded that it is true and that you are qualified to have it. If you have to "earn" (in any way, shape or form) by performing, then you will always question if you have "done enough" to fulfill the requirements to qualify. The performance requirement produces doubt! Righteousness reveals His life in you!
The only thing to "do," to receive all the benefits of the finished work of the cross, is to believe. Be fully persuaded that because of Jesus' obedience (not yours), you are qualified.
When you believe, then your mind is at rest. We have His rest, and live from His rest, because we have believed. Think about this: You can rest at night when you believe you are secure. If you wake up thinking you forgot to lock the door, then you find yourself in unrest. Jesus is your security for your health, provision, safety, peace and rest. He finished it at the cross! Do you believe that?
Then be at rest my friend. You are secure in the secret place of the most high where you are ALWAYS accepted and loved! What you believe will either propel you into His grace or keep you bound in the law. Everything you do daily is based on your belief system. So if you believe right, you will live right, and experience His rest!
The Revelation of Righteousness
Righteousness means that we have right standing with God, but it is actually much more than that. It also means (because of what Jesus did at the cross), we are innocent, guiltless, and faultless. Yes, Jesus restored our innocence – we are righteous! The Mirror Translation says it this way: Rom. 1:17 "Herein lies the secret of the power of the gospel; there is no good news in it until the righteousness of God is revealed!" God now persuades everyone to believe what He knows to be true about them. The prophets wrote in advance about the fact that God believes that righteousness unveils the life that He always had in mind for us. "Righteousness by His faith defines life."
Also Rom. 5:17 & 21: "For if by one man's offense death reigned through the one, much more those who receive abundance of grace and of the gift of righteousness will reign in life through the one Jesus Christ. 21 so that as sin reigned in death, even so grace might reign through righteousness…."
Why is our innocence so important? Let me begin with this truth: If you have been forgiven of ALL your sins, then you are now innocent. Hebr. 9:26 "…He has appeared to put away sin by the sacrifice of Himself." And Hebr. 10:17 "Their sins and their lawless deeds I will remember no more." At the cross you were once for all forgiven, made righteous (innocent) by His grace. You didn't earn it, you didn't merit it, it is a gift, so receive it. God wants us to reign in life, and we need the revelation of righteousness revealed for the power of this gospel of grace to be evident in our lives.
Peter felt it was important to remind the saints of their forgiveness in 2 Pet. 1:9 and he told them they became shortsighted even unto blindness because they forgot that they were forgiven. He even pointed out in verse 12 the fact that these saints were established in this present truth. Friends, most notably the number one thing we so quickly forget is that we are forgiven and therefore innocent. Whenever we feel ignored or neglected, self- condemnation quickly follows.
Why is this so important? Because when we forget we are innocent, we begin to condemn ourselves, falling back under the law and the ministry of condemnation (2 Cor. 3:7&9). Jesus was condemned at the cross so that you wouldn't be. He became sin so that you could be the righteousness of God in Christ. The sin debt was paid – you are now innocent!
Receiving His revelation of righteousness also includes understanding God's intense love for us. He loves us no matter what. His love never changes. Sometimes we forget or feel ignored or neglected, and after some self-condemnation, we try to become righteous by our works (self efforts) in order to qualify for His approval and blessing.
Our efforts bring us to a place of denying His power, by trying to produce the formula to bring about that which we desire. I believe that is the form of godliness but denying the power that 2 Tim. 3:5 speaks of. "Form of godliness" meaning people appear to be godly. "Form" in that verse according to Thayer's Dictionary means "formula," suggesting a formula or steps to take to achieve godliness. But we deny the power which is righteousness by faith, apart from works (or working our own formulas). Mixture tells us to add works, as in a formula, in order to become righteous. There is nothing to complete. Jesus finished the work; we are already righteous.
Grace deactivates pride. We want to be in control instead of resting in His finished work. There is nothing for you to do but believe. When we have His life, understanding who we are in Christ (righteousness revealed), we have that power in our lives. This revelation of righteousness is where we see the power of God released in our lives. It is by grace – not works. So discover all the riches of His gift of righteousness, receive His abundance of grace, and reign in life today!