Facing a loss of a close family member, relative, or friend may be very difficult; it may make any of us feel overwhelmed by grief. When my beloved Auntie Kirsti passed away a while ago the realization of her final departure felt both crucially painful and numbing at the same time. I still feel somewhat unwilling to "share" her with the rest of the world, but I do it, because I know that there are many of you who currently experience same kind of pain. My wish is that my story would help you to see the Light at the end of the tunnel.
Some individuals' significance is beyond measure in our lives. I have many Aunts and Uncles who I love, but Auntie Kirsti was a special pillar for me – especially in childhood. She was someone who never questioned if I was good or lovable enough. She patiently waited at the shoreline when I swam and played in the lake. She was at our home with my parents and I – providing her open, comforting arms, when my brother died of cancer at the age of eight. She took me to the theater for the first time in my life; the play was called The Blue Bird, and while I really cannot remember the storyline anymore, I remember the thrill it provoked in me.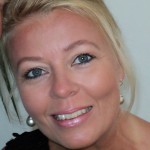 I believe, as a Christian, that our life is not over when we leave this earth but continues in the presence of God. Nevertheless I felt tremendous void in my soul, knowing that I'm not able to experience my Auntie's tangible love anymore. During the first few days after her passing I only felt longing, even while knowing, that one day I will meet her again in heaven.
Some Christians have a tendency to blame the devil for anything and everything negative that happens in the world and in their own lives. No, the devil doesn't have such a power. In the midst of grief, remind yourself that it's fine to feel void and loss. Don't try to deny your pain – by doing that you only create more pain to yourself. Cry – it helps. Talk, when you feel that there is someone near you who understands what you are going through. My loving husband, Peter, has been that precious person for me. Most of all, talk to Jesus. He knows exactly how you feel; layers of emotions and depth of your grief is not unknown to Him.
This may sound like a cliché, but it's not; when it comes to grief over someone that you loved dearly, run into the loving arms of your heavenly Father. The Holy Spirit has been given for us as the Comforter, and He reminds us of Jesus Christ, who went through the most unbearable grief for humankind. He took our pain at the Cross, was buried, but rose again – so that when we look at Him, we may identify ourselves with His victorious resurrection and triumph over life's circumstances.
I still love theater. The grief over Auntie Kirsti, now partially faded, doesn't crush me anymore. Wherever you are in the healing process of a lost loved one, be assured that by the grace of God the emotion of void and loss will turn into cherished memories. You will remember the time you two shared together, the secrets you whispered to each other, and love you both experienced.