Because … by now, I've realized how much more I am dependent on God's grace than His Law. "The Law is holy and the commandment holy and just and good" (Rom. 7:12). But … it doesn't have saving power. Sure, it shows everything that is wrong with me, but it will never be able to make me righteous.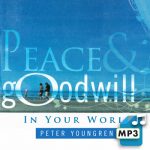 The Apostle Paul continues, "O wretched man that I am! Who will deliver me from this body of death?" Thankfully he doesn't leave us in darkness, but answers… "I thank God—through Jesus Christ our Lord!" (Rom. 7:24-25).
Through Christ we have become partakers of God's divine nature. What a joy to realize that through Jesus we were made righteous! No more performance, fear, or desperate search for acceptance. God never intended us to find peace and fulfillment through Law, but through the Prince of Peace.
Without God's grace, His unearned favor, we would be the most miserable creatures on earth. Not only would our own lives be joyless, but we would inevitably reflect the very essence of Law around us; criticism and condemnation.