Circumstances might discourage us and make us doubt the promises of God. Yes, we have angels protecting us, but what about Christians who die in accidents?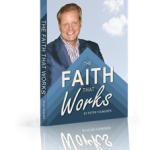 Yes, we have the healing of the Lord, but what about believers getting sick. Yes, we know the Lord provides for us, but still even preachers of the Word have experienced great lack. The thought may come, "How dare we think we are the exception?" How can we say that God loves, cares, protect and provide for us more than for them?
I got such thoughts when I heard one bad news after the other of what happened around me. The news tried to make me question God's promises of protection for my own life. Then the Spirit of God rose up in me to combat those thoughts: God loves all people, but John was allowed to make it personally and think he was the disciple whom Jesus loved.
David was allowed to agree, "1,000 fall at your side and 10,000 at your right hand; But it shall not come near you… No evil shall befall you, Nor shall any plague come near your dwelling." (Psa. 91:7, 10) "Fear not, for I am with you; Be not dismayed, for I am your God. I will strengthen you, Yes, I will help you, I will uphold you with My righteous right hand.'" (Isa. 41:10)
We still live in this world, and bad things happen even to good people. We can be secure even if we die, as we will be with the Lord forever! But you are allowed to confidently believe that God's protection, provision, healing and care are real and are for you! And then you can go out to the world and help others believe and experience so too.